Latest News
SSLC PLUS TWO CASH AWARD: 2021-2022 വർഷത്തെ എസ്.എസ് .എൽ .സി ,... Read More.>>
APPLICATIONS INVITED LAST DATE 2019 SEPTEMBER 16 , 4 PM:

COLLECTION AGENTS-3

WESTERUNION & X PRESS MONEYTRANSFER AVAILABLE HERE:

WESTERUNION & X PRESS MONEY TRANSFER FACILITIES AVAILABLE HERE
---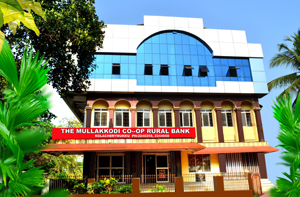 A leading co-operative bank in Kerala established in 1946, Upgraded as co.operative bank in 1955.Years of experience and service helped the bank to get the faith of the public in growth.Every year, one step forward significant achievement in deposit mobilization campaign in state level. Placed as first in deposit mobilization in Taliparamba Thaluk and Kannur district several times. There are branches in every village in the area operation of the bank, now 12 branches is there and every branch is running in profit . Mayyil branch working time is from 8 am to 8 pm and ladies branch in Kambil is functioning on Sunday also. Chelerymukku and Kambil branches serve from 1 pm to 8 pm. Government Graded the Bank as "Super Grade" on the basis of performance of the bank. Own building for Head Office, Karinkalkuzhi and Kayaralam branches. Conference Hall at Kolachery Mukku with 400 Seating Capacity.
Some of the siginificant features of the Mullakkodi bank are,
• Fully fledged Branch with efficient Staff
• Various Type of Deposit as Convenient to Customers
• Deposits accepts as per the rules and direction by Government
• Different types of loan on easy terms and conditions.
• Most part of the deposits are invested in Gold Loan and Property Loan
• Liquidity to meet any Crisis
• Efficient Management by Selfless Leaders
• Accident Insurance and other Service to Members
• Risk fund benefit on death to members with loan
On the way of Growth with modern technology and marching forward with the help and faith of public to protect's the needs and interest of the members and customers.